I'm passionate about teaching others how to feel good about selling.
If selling is critical to people in your audience, let's partner up.
Become an affiliate, sell my 5 module online video training course, and start earning commissions on each sale.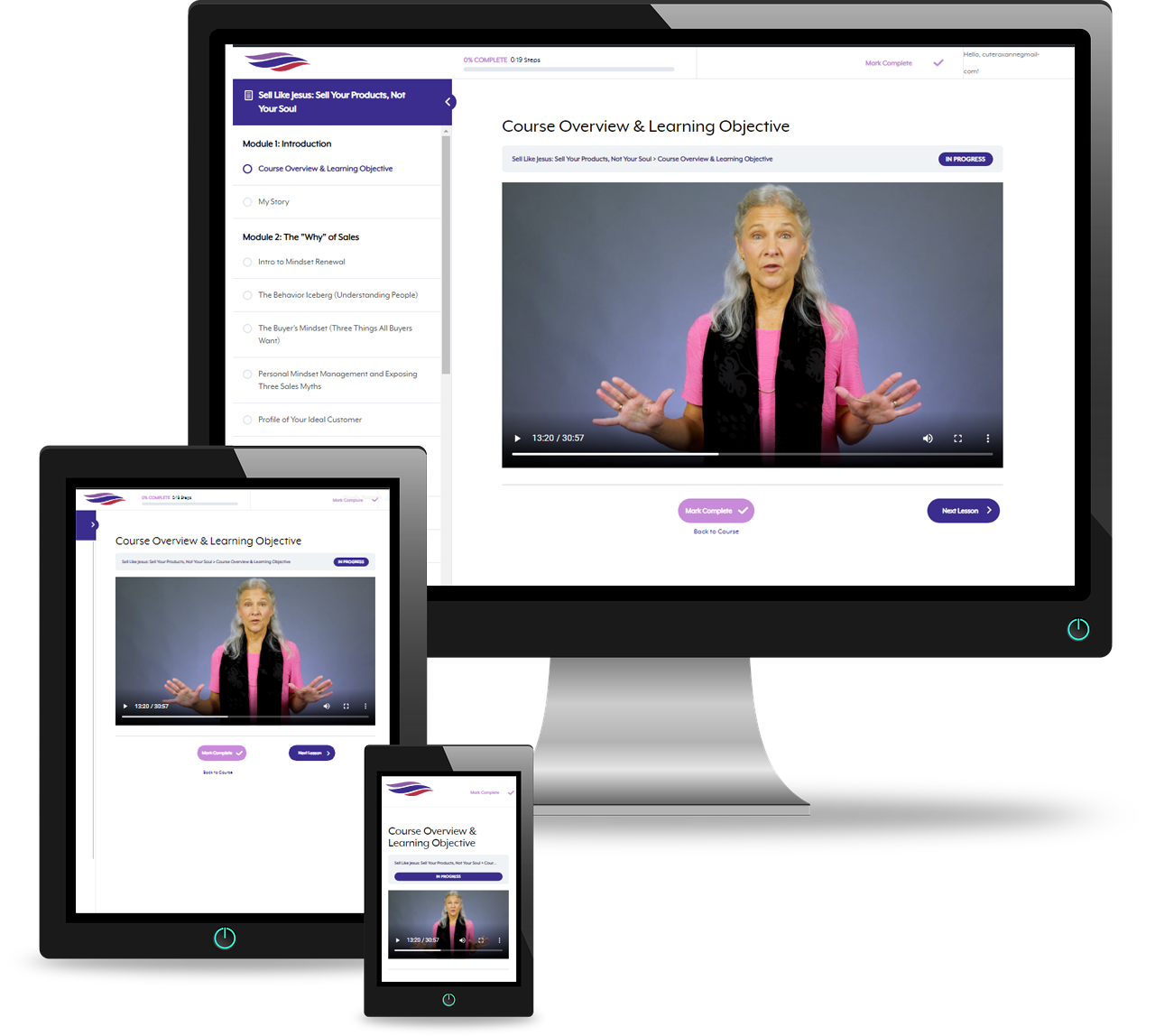 What is the video training course about?
If you're like so many business owners I know, you have a love/hate relationship with sales.
You love the fact that your products and services are helping your clients… but you hate being the one who has to close the deal!
You can't stand it when people react defensively when you make the slightest mention of costs or contracts.
Or you feel frustrated and fed up when they ask you, "Is that price the best you can do?" because you know full well it honestly is.
Or you have to bite your lip and stifle your groan when they listen patiently to your pitch only to say, "Well, let me get back to you." 
So, what's a principled businessperson like you supposed to do?
Keep on limping along with low profits and even lower spirits?
Resign yourself to hard-hitting, high-pressure sales tactics?
I invite you to consider another way… a better way… one that reliably generates revenue without mistreating your customers or compromising your values.
Learn to sell like Jesus.
What You'll Get When You Enroll
A new, more positive perspective on selling and how to do it in a way that makes you feel good
Greater confidence in your ability to sell – which could not only earn you more money but also lead you to expand your business in new ways.
More joy in what you do because you're earning your living in alignment with positive spiritual principles drawn from the pages of the New Testament.
When You Invest In the Course,
You Will Get:
Lifetime access to online video trainings, anytime and anywhere.
Watch and re-watch the short, easy-to-follow videos on your schedule, and on any device. You can cover all the principles of this better way of selling entirely at your own pace. (Be sure to check out the module-by-module course outline on this page.)
Six months of Sales Implementation Coaching
Get live group coaching from Deb, via Zoom, to reinforce and implement what you've learned. We'll work through real-life sales challenges, and practice new techniques. Collaborate and network with peers who are on the same journey to improve their selling skills. (a $300.00 value)
A one-on-one coaching session with me at the end of the course.
At course completion you are entitled to claim a private, one-hour coaching call with me as a reward for your hard work. We'll discuss how you can leverage what you've learned to increase your bottom-line (a $300.00 value).
Here's how the affiliate program works
Get access to a portal of resources to promote this product to your audience
Promote the course using resources we provide or your own ways
Earn 20% commission on each sale