Did you know that Jesus was the world's best salesperson?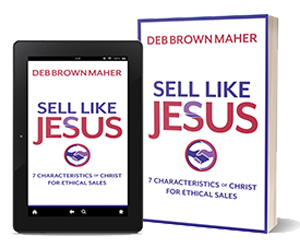 While most people recognize Jesus as the author of servant leadership, they hesitate to see him as the master salesperson. Consider this: sales, when done right, is a form of servant leadership. In Sell Like Jesus: 7 Characteristics of Christ for Ethical Sales, Deb Brown Maher unpacks what Jesus did, how he did it, and how you can apply it to your sales conversations. Discover the importance of character, connection, clarity, comprehension, certainty, choice and commitment—and learn to sell like Jesus!
$17
Paperback, signed by the author
Includes the cost of shipping to US/Canada
Don't live in the US/Canada?
Purchase eBook or Paperback on Amazon